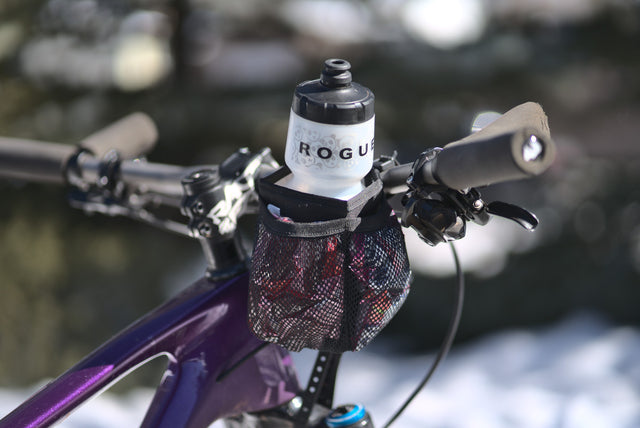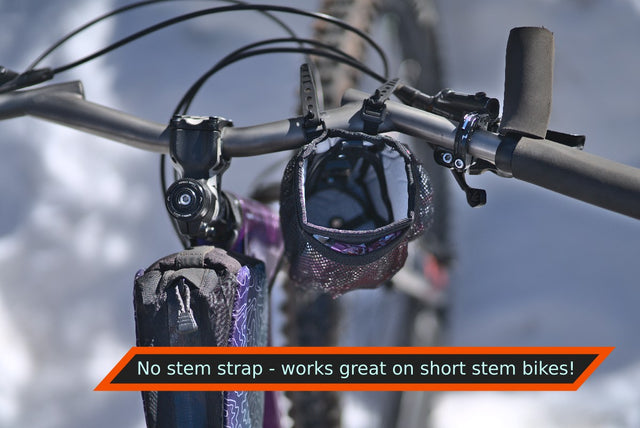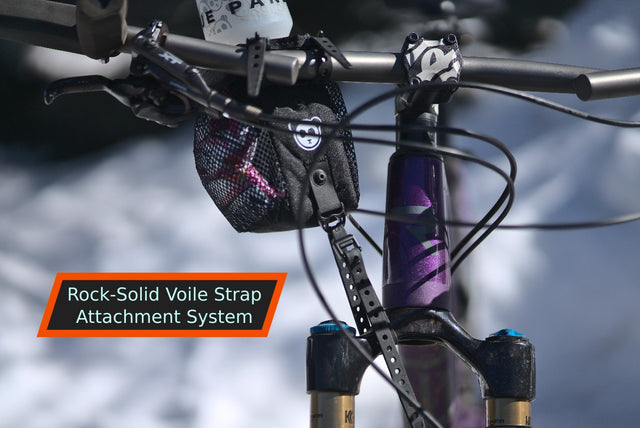 Keep your water bottle at your fingertips with the Bismarck Bottle Bucket. Unlike most feedbags, we ditched the drawstring closure and replaced it with an integrated bottle cage. Now, there's nothing between you and sweet, sweet hydration. Pedal, drink, pedal, ahh! 
The Bismarck is designed specifically for water bottles. Looking for a handlebar bucket to carry snacks instead? Check out our Snack Sack instead!
Ultra-Secure Attachments

Just like our Snack Sack, the Bismarck has no stem strap! Instead, we've equipped it with two short Voile Straps® Nano straps to attach to your handlebars, and one 16-inch Nano strap to your fork crown. Tensioning the bag down to your fork makes this the most stable bag in its class—no stem strap needed!

Exterior Pocket Storage
You didn't think we would give up snacks in the name of hydration, did you? Never! The Bismarck has three mesh pockets with tight elastic to make sure your goodies don't fall out onto the trail! Keep your bars, energy gels, and drink mixes at your fingertips. Or, perhaps you're more of a fruit snack and Pixy Stix kind of rider—ain't no shame in that game.
Specs
| | |
| --- | --- |
| Volume | Dealer's choice! Any bike bottle will work—we usually rock our 26oz Purist, but any bottle you can fit in a bottle cage will work with the Bismarck Bottle Bucket.  |
| Weight | 4 oz |
Behind the Name
All of our bags are named after sections of the Arizona Trail, which runs within a mile of our workshop in Flagstaff.
The Bismarck is named after Bismarck Lake, a water source off of the AZT north of Flagstaff. Just like Bismarck Lake, your water bottles might be totally empty, totally full, or somewhere in between.